Yutani
Characteristics
Cost
500
Edition
Standart
Limited?
No
Release Date
24 May 2012
Outfits
This character doesn't have any unlockable outfit.
"Tech genius and the gang's Q. Science is her obsession. Wildly imaginative and loves trying to create contraptions that have never been done. Personally, she believes she may not be of this earth - a theory her friends amusingly find completely plausible."
Source: Subway Surfers Official Website
Yutani is a character that can be unlocked by collecting

500 (Yutani's UFO). It's said that Yutani is the hardest character to get, as she requires the most tokens among the other token characters.
Appearance
She is a girl in an alien suit, with the alien suit being green with spots at the bottom, with 2 antennae, 2 large eyes, and 4 arms. The upper arms are the real arms and the lower arms are just apart of the suit.  
Trivia
Among all the characters that requires tokens to unlock, Yutani requires the most tokens to be collected.
Yutani, Dino and Boombot are currently the only non-limited characters not to receive their own new outfits yet.
Yutani may be a reference to the Weyland-Yutani cooperation from Aliens Vs Predators.
Gallery
Character Dossier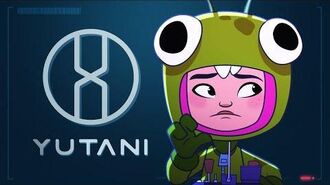 Characters

Default
• • • •
Special
•
• • • •
Limited
2012
•
2013
• • • • •
2014
• • • • • • • •
2015
• • • • • •
2016
• • • • • • • •
2017
• • • • • • •
2018
• • • •
2019
Non-playable
Antagonist
•