World Tour: Mumbai - Playing Subway Surfers first time. Don't unlocking Jay and Bengal :(
World Tour: Miami 2 - Unlcoking Nick and Flamingo and win a Jackpot :)
Tour: Seoul - Unlcoking Mina and Bubblegum.
World Tour: New York 2 - Unlocking Tony. Don't unlocking the board
World Tour: Mexico - Don't unlcoking Rosa and Prickly. I deleted Subway Surfers because was a bug in my android :(
World Tour: Rome 2 - Beijing 2 - Don't playing Subway Surfers.
World Tour: Beijing 2 - Installing Subway Surfers in another phone. In the last 2 days don't get Sun and Panda
World Tour: Cairo - Deleting SS.
World Tour: New Orleans 2 - Installing again Subway Surfers. Unlocking Eddy and his Trick Outfit and Pumpkin.
World Tour: Bangkok -  Unlocking Noon and Dino. Don't unlock Turtle
Subway Surfers World Tour: Christmas 2014 - Unlocking Snowflake and Rudy.
Subway Surfers World Tour: Las Vegas - Don't playing

27,000+

73
Boards: 1
Currently Used
Edit
My highscore
Edit
My highscore is: 30,079,780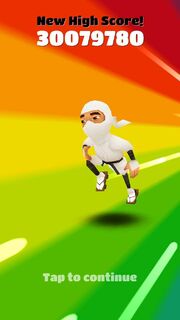 I make him in: Bangkok, 18.11.2014
Character used: Ninja
Hoverboard Used: Pumpkin
Multiplier: 35 (Score Booster)
Mega headstars used: 3
Hoverboard used: 50+
Coins collected: 100,000+
Keys used: 15
My favorite characters

Edit
Roberto
,
Nick
,
Sun
,
Mina
,
Kim
and
Rex
.
Dislike Characters
Edit
My favorite hoverboards
Edit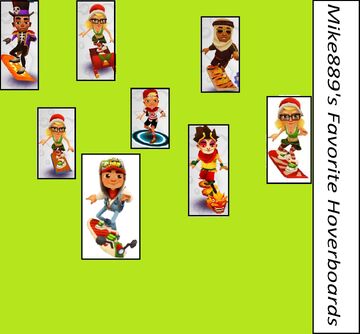 Bengal(BEST), Teleporter, Scoot, Dragon, Lumberjack (best No2), Jingles, Fortune (best No3), Pumpkin (best No4), Snowflake, Starboard, Rudy.
Dislike Hoverboards
Edit
Characters Unlocked:
Edit
Jake, Tricky, Fresh, Spike, Frank, Ninja, Tasha, Tagbot, Lucy, Eddy, Noon, Dino
Outfits Unlocked:
Edit
Dark Outfit, Camo Outfit, Funk Outfit, Clown Outfit, Tiger Outfit, Trick Outfit, Goth Outfit, Steam Outfit, Yang Outfit, Flame Outfit, Space Outfit, Cheer Outfit, Gym Outfit, Pink Outfit.
Hoverboards Unlocked:
Edit
Starboard, Lumberjack, Superhero, Miami, Great White, Scoot, Pumpkin, Snowflake, Rudy.
Board Upgrades Unlocked:
Edit
Star Trail
TO DO LIST
Edit
Do 1,500 edits
Be in rank 1-3 in the leaderboard
Be a Chat Moderator
Get 50 achievements
Be a administrator
Unlcok the The more, the merrier, Looking good and Board rider awards.
Beat my highscore
Community content is available under
CC-BY-SA
unless otherwise noted.