Game Stats
Highscore: 6,454,920
Multiplier: 30x
Mission Set Number: 232
Hoverboards: 600+
Keys: 60+
Coins 180.000+
Characters Unlocked
Jake; Tricky; Olivia; Harumi; Lucy; Fresh; Ninja; Spike; Tagbot; King; Yutani; Tasha; Jasmine; Eddy; Dino; Noon; Mina; Amira; Wayne.
Outfits Unlocked
Dark Outfit; Skate Outfit; Meow Outfit; Goth Outfit; Yang Outfit; Flame Outfit; Star Outfit; Space Outfit; Cheer Outfit; Count Outfit; Steam Outfit; Safari Outfit; Gym Outfit; Toy Outfit; Royal Outfit; Trick Outfit; Pink Outfit; Robo Outfit; Pop Outfit; Rock Outfit; Punk Outfit; Funk Outfit; Sport Outfit; Genie Outfit; Chief Outfit; Knight Outfit.
Boards Unlocked
Hoverboard; Starboard; Superhero; Lumberjack; Miami; Great White; Daredevil; Pumpkin; Rudy; Bengal; Cruiser.
Awards Completed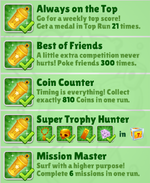 Super Surfer Agent; I Got the Power; Trophy Hunter; Letter Chaser; Coin Cautious; Mission Master; Super Trophy Hunter; Coin Counter; Best of Friends; Always on the Top; Mystery Maetro; No Acrobatics.
Badges
Divine Fox has entered the Future Predictor!
Currently Using
Favourites

Thanks For Reading! Divine Fox (talk)
Gallery to be
Community content is available under
CC-BY-SA
unless otherwise noted.