Super Runner Tricky
Characteristics
Cost
Completing all 5 super runner stages
Edition
Limited?
Yes
Release Date
June 7, 2022
Outfits
This character doesn't have any unlockable outfits.
Super Runner Tricky is a limited character exclusive to the

update. She can be obtained by completing all 5 super runner stages.
Appearance
Default Outfit
Tricky's Super Runner outfit features a golden earring, a black face mask, golden spikes on her shoulders connected by a golden chain; a white shirt, rich gray sleeved gloves; a golden belt with an aqua-blue gem, and black pants. In this new look, Tricky is sporting a new hairstyle. She also wears rocket boots in the colors sky-blue, gold, and metallic gray.
Trivia
When running, Tricky's rocket boots emit sky-blue and yellow trails that have a neon light effect.  
She and Super Runner Yutani have the longest names out of all the characters, being seventeen letters long. Although, it's a nickname.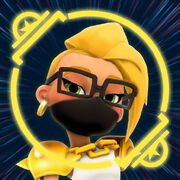 Gallery
Characters
Permanents
Core Crew

















Limited Characters
2012

2013











2014









2015







2016









2017








2018






2019












2020





















2021
























2022













Antagonists