Super Runner Fresh
Characteristics
Cost
Completing the 5th stage of Super Runner City
Edition
Limited?
Yes
Release Date
June 27, 2022
Outfits
This character doesn't have any unlockable outfits.
Super Runner Fresh is a limited character from the

update. In order to unlock him, the player needs to complete the 5th stage of the Super Runner City.
Appearance
Default Outfit
Fresh's Super Runner outfit features lime-green glasses, black headphones with chartreuse-green X-marks on each pallet ornament, a moss-green vest that is also a boombox with a speaker on the chest, three multicolored square buttons on the lower-right side of the front, and a cassette player on the lower-back with a loose belt dangling, a bright-red tank top, lime-green pants, and moss-green boots. Fresh's hair is dyed dark-green, and his nails are painted chartreuse-green. When on display, Fresh's speaker produces visible sound waves.
Trivia
Super Runner Fresh is the 10th character released in 2022 after Super Runner Tricky, Pride Miss Maia, Super Runner Jake, Dummy, George, Pink, Charlie, Tiger, and Hasina.
He is the 3rd character of 2022 to wear a face mask the 1st being Pink and the second being Super Runner Tricky
He is the 2nd surfer, the 1st being Bjarki.
He is the 3rd Super Runner character, the 1st being Super Runner Jake, and the 2nd being Super Runner Tricky.
His idle animation is similar to Charlie's idle animation.
He is the 3rd character to have a trail effect during the gameplay, the 1st being Super Runner Jake, and the 2nd being Super Runner Tricky.
During his first day of release, he was temporarily available for either 300 or , possibly due to a bug. This led to many people purchasing him before he was available.

The same day, the same thing happened to the other Super Runner characters, these being Super Runner Jake and Super Runner Tricky, both of which weren't supposed to be available for purchase at that time.

He is the 1st male character to have painted nails in the game.
He also appears to be younger.
Super Runner Fresh is the 3rd Fresh variation. The first being Festive Fresh and the second being Pride Fresh.
When running, Fresh's earphones produce green smoke. Fresh's trails are the shortest among the four Super Runners.
He is the first Super Runner character to be re-released.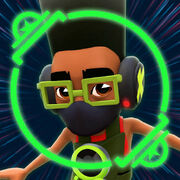 Gallery
Characters
Permanents
Core Crew

















Limited Characters
2012

2013











2014









2015







2016









2017








2018






2019












2020





















2021
























2022













Antagonists