Note: This article features content related to an already expired object.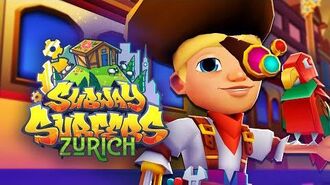 Zurich 2020


Subway Surfers' app icon for the Zurich 2020 edition.

Information
Update Version
v2.2.0
Character
Hugo
Hoverboard
Clockwork
Season Hunt
Marathon Challenge
None
Background Music
None
Previous
Next
Release Date
June 18, 2020
Subway Surfers World Tour: Zurich 2020 is the one hundred twenty-first update of Subway Surfers and the one hundred fifteenth ​​​​​installment in the World Tour series. This edition includes the return of Hugo as a prize of the Season Hunt, with a new outfit called Pirate Outfit for 30

. This edition also has the return of Clockwork as a prize of the Season Hunt, the tokens are
. It was released on June 18, 2020.
Trivia
This is the first time that Zurich is relaunched (2020).
This is the first time Zurich was released with no Easter theme.
This is the 10th consecutive relaunch (after the , , , , , , , and ). This is also the ninth consecutive relaunch in 2020.
This is the eight edition launched in 2020.
Zurich is the first edition from 2019 to be revisited.
By Time Travelling you can view future the previous sales up to the end of Zurich Season Hunt. However. The feature would later be removed
When this edition was first released, SYBO accidentally released it as a San Francisco edition with the original remix and Windmills as the Season Hunt Token.
All of the Easter decorations were removed and put under the bridge.
The city icon of this edition in the welcome greeting it's the same that the 's city icon.
Gallery
Editions

2012
Halloween • Holiday
2013
• • • • • • • • • •
2014
• • • • • • • • • • • • • • •
2015
• • • • • • • • • • • • • • •
2016
• • • • • • • • • • • • • • •
2017
• • • • • • • • • • • • • • •
2018
• • • • • • • • • • • • • • •
2019
• • • • • • • • • • • • • • •
2020
• • • • • • • • • • • • • • • •
2021
• • • • • • • • • • • • • • • •
2022
• • • • • • •