Note: This article features content related to an already expired object.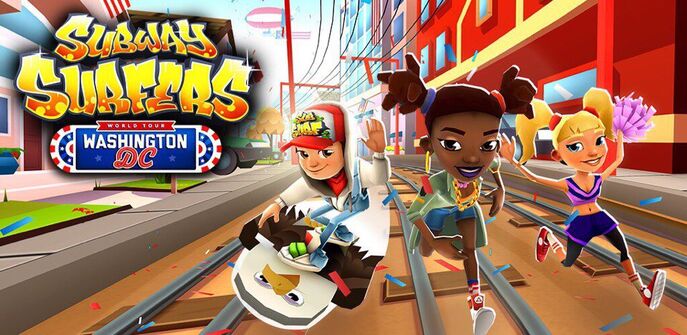 Washington D.C.


Subway Surfers' app icon for the Washington D.C. edition.

Information
Update Version
v1.63
Character
Lauren
Hoverboard
Eagle
Weekly Hunt
Background Music
None
Previous
Next
Release Date
3 November 2016
Subway Surfers World Tour: Washington, D.C. is the fifty-eighth in the World Tour series and the sixty-third edition in Subway Surfers. This edition introduces a new character named Lauren (costing

95,000), with a brand new outfit called the Tally Outfit (costing

15), and a new board called the Eagle (costing

50,000). The weekly hunt tokens to be collected are Ballot Boxes. It was released on 3 November 2016.
Re-releases
9 November 2017
Trivia
This edition celebrates the 2016 United States presidential election, which took place on 8 November 2016.
This is the second time a female USA character was introduced. The first being Jenny.
Gallery
Editions

2012
Halloween • Holiday
2013
• • • • • • • • • •
2014
• • • • • • • • • • • • • • •
2015
• • • • • • • • • • • • • • •
2016
• • • • • • • • • • • • • • •
2017
• • • • • • • • • • • • • • •
2018
• • • • • • • • • • • • • • •
2019
• • • • • • • • • • • • • • •
2020
• • • • • • • • • • • • • • • •
2021
• • • • • • • • • • • • • • • •
2022
• • • • • • •