Subway Surfers World Tour: Singapore is the fifty-second edition in the World Tour series and the fifty-seventh edition in Subway Surfers. It introduced a new character, Jia, costing 95,000

, with her new outfit, the Wild Outfit, costing 15

. This edition also introduced a new board, Lion, costing 50,000

. Weekly Hunt tokens are orchids. It was released on 6/23/2016.
Re-releases
Edit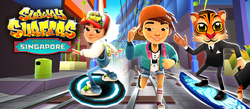 In this edition the game becomes available for Windows Phone 10 after the mistake with updating the Peru version.
This is the second edition that was updated to next one too early, first being North Pole.
This is the first edition that lasted only for two weeks.