Note: This article features content related to an already expired object.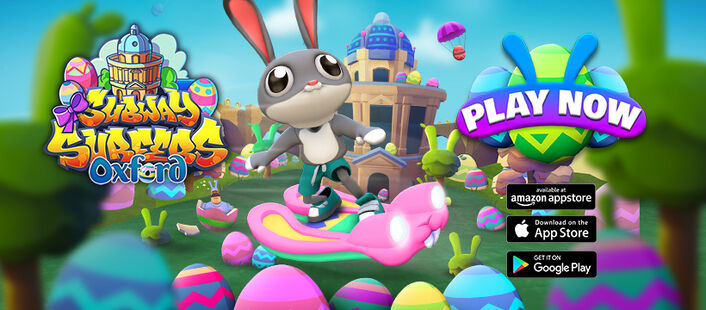 Oxford 2022


Subway Surfers' app icon for the Oxford 2022 edition.

Information
Update Version
v2.32.0
Characters
George, Bonnie, Jamie, Rabbot, Frankette
Hoverboards
Rolls Rabbit, Bunny, Chicky
Season Hunt
Marathon Challenge
Background Music
Yes
Previous
Next
Release Date
April 4th, 2022
Subway Surfers World Tour: Oxford 2022 is the one hundred forty-one edition of the Subway Surfers World Tour series and also the one hundred fifty nine edition of Subway Surfers. This update was released on April 4, 2022.
This update releases the new character, George (costing
250) and a new hoverboard, Rolls Rabbit (costing
150).
The update has no Marathon Challenge for Oxford 2022 but has a

Tag Team event
Trivia
This is the 5th update in 2022
This is the 4th World Tour of 2022
This update celebrates Easter.
It's the first time a 2021 update was re-released.
This is fourth time an update was re-released in 2022.
This is the second time an Easter update has been re-released after the year it was released.
This is the second update to have a tag team and no marathon challenge. The first being .
This is the 54th update to have remixed Background Music.
This is the first 2022 edition to have a new male surfer.
So far, this the latest edition to have tag team and not a marathon.
This update doesn't include trains.
Gallery
Editions

2012
Halloween • Holiday
2013
• • • • • • • • • •
2014
• • • • • • • • • • • • • • •
2015
• • • • • • • • • • • • • • •
2016
• • • • • • • • • • • • • • •
2017
• • • • • • • • • • • • • • •
2018
• • • • • • • • • • • • • • •
2019
• • • • • • • • • • • • • • •
2020
• • • • • • • • • • • • • • • •
2021
• • • • • • • • • • • • • • • •
2022
• • • • • • •