Note: This article features content related to an already expired object.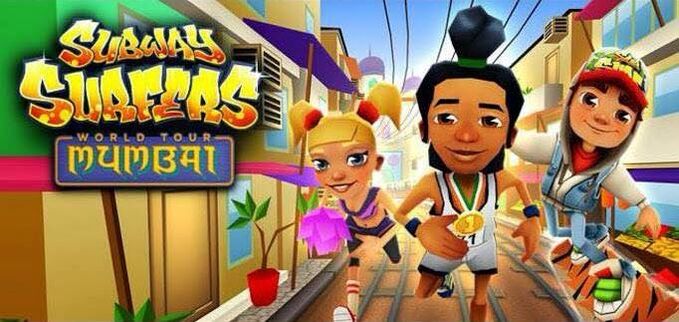 Mumbai


Subway Surfers' app icon for the Mumbai edition.

Information
Update Version
v1.17
Character
Jay
Hoverboard
Bengal
Weekly Hunt
Background Music
None
Previous
Next
Release Date
2 January 2014
Subway Surfers World Tour: Mumbai is the twelfth installment of the Subway Surfers World Tour series and the seventeenth update of the game. This edition introduces a new limited character, Jay, and a new Hoverboard, Bengal. This edition also gives Frank and Tasha a new Outfits each. Not only that, the Holiday Video during the

edition was brought back to this edition, but as a Daily Video. It was released in January 2nd, 2014.
Re-releases
Trivia
The Weekly Hunt for this edition starts the trend of having 3 challenges instead of 4 unlike the previous editions.
This also starts the trend of the edition to be playable for 3 weeks instead of 4 until a new edition is released unlike the previous editions.
It is the first edition of 2014.
This edition celebrates New Year 2014.
Gallery
Editions

2012
Halloween • Holiday
2013
• • • • • • • • • •
2014
• • • • • • • • • • • • • • •
2015
• • • • • • • • • • • • • • •
2016
• • • • • • • • • • • • • • •
2017
• • • • • • • • • • • • • • •
2018
• • • • • • • • • • • • • • •
2019
• • • • • • • • • • • • • • •
2020
• • • • • • • • • • • • • • • •
2021
• • • • • • • • • • • • • • • •
2022
• • • • • • •