Not to be confused with Train Riders, another app similiar to Subway Surfers.
Not to be confused with the Chinese Version, only available to the people of the Republic of China.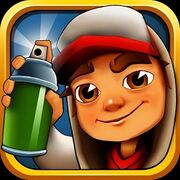 Subway Surfers is an endless action video game developed & published by Kiloo & SYBO Games. The player takes on the role of an average teen (or, on rare occasions, a young adult or an older kid) vandalizing a subway train, and is caught by The Inspector and his dog. The player must run away from the two, who are chasing him/her. In the Sydney Update, they added Keys, which revive the character if they should choose to use them. The game is available on iOS, Android and Windows Phone platforms.

Launched in 2012, "World Tour" became the theme of the game, where the settings are in cities like New York, Rio de Janeiro, Sydney, Rome, Mumbai, Dubai, Tokyo and Miami, only a few of the many locations that have been featured up until this point. The game starts with a default character, Jake. However, as players collect more coins, they will eventually get the chance to unlock new characters. As well as coins, they can collect UFOs and Radios in order to unlock Yutani and Fresh, respectively.
Gameplay
The object of the game is to run as far as possible in a endless game world while avoiding randomly generated obstacles that require the player to either jump (slide finger forward), duck (slide finger backwards) and dodge the oncoming trains in a precise manner.
Power-ups
Playable Characters
The controllable characters are:
Editions
Release (May 2012)
Halloween (October 2012)
Holiday (December 2012)
New York (January 2013)
Rio (February 2013)
Rome (March 2013)
Sydney (April 2013)
Tokyo (May 2013)
Miami (June 2013)
Paris (July 2013)
Beijing (August 2013)
Moscow (September 2013)
New Orleans (October 2013)
London (November-December 2013)
Mumbai (January 2014)
Miami (January-February 2014)
Seoul (February 2014)
New York (March 2014)
Mexico City (March-April 2014)
Rome (April 2014)
Vancouver (May 2014)
Tokyo (May-June 2014)
São Paulo (June 2014)
Paris (July 2014)
Los Angeles (July-August 2014)
Beijing (August-September 2014)
Cairo (Septembre 2014)
New Orleans (October 2014)
Bangkok (November 2014)
London (December 2014)
Las Vegas (January 2015)
Seoul (January-February 2015)
Hawaii (February 2015)
Mumbai (March 2015)
Paris (March-April 2015)
Arabia (April 2015)
Los Angeles (May 2015)
Venice (June 2015)
Rio (July 2015)
Sydney (July-August 2015)
Greece (August 2015)
New York (September 2015)
Kenya (September-October 2015)
Transylvania (October 2015)
Tokyo (November 2015)
North Pole (December 2015)
Hawaii (December 2015-January 2016)
San Francisco (January 2016)
Arabia (February 2016)
Prague (March 2016)
Madagascar (March-April 2016)
Sydney (April 2016)
Peru (May 2016)
Las Vegas (June 2016)
Singapore (June-July 2016)
Venice (July 2016)
Rio (August 2016)
Iceland (September 2016)
Havana (September-October 2016)
Transylvania (October 2016)
Washington D.C. (November 2016)
Winter Holiday (December 2016)
Amsterdam (December 2016-January 2017)
San Francisco (January 2017)
Arabia (February 2017)
Bangkok (March 2017)
Monaco (March-April 2017)
Hawaii (April 2017)
Copenhagen (May 2017)
Peru (June 2017)
Marrakesh (June-July 2017)
Shanghai (July 2017)
Miami (August 2017)
Barcelona (August-September 2017)
Singapore (September 2017)
Mexico (Halloween 2017) (October 2017)
Washington D.C. (November 2017)
Saint Petersburg (November-December 2017)
Cairo (December 2017-January 2018)
Chicago (January 2018)
Paris (February 2018)
Tokyo (March 2018)
Iceland (March-April 2018)
Buenos Aires (April 2018)
Monaco (May 2018)
Venice Beach (May-June 2018)
Mumbai (June-July 2018)
Havana (July 2018)
New York (August 2018)
Berlin (August-September 2018)
Hong Kong (September-October 2018)
New Orleans (October 2018)
Marrakesh (November 2018)
London (November-December 2018)
Rio (December 2018-January 2019)
Atlanta (January 2019)
Venice (February 2019)
San Francisco (March 2019)
Zurich (April 2019)
Bangkok (April-May 2019)
Seoul (May-June 2019)
Dubai (June 2019)
Miami (June-July 2019)
Bali (July-August 2019)
Barcelona (August-September 2019)
Moscow (September 2019)
Singapore (September-October 2019)
Mexico (October-November 2019)
Houston (November 2019)
Winter Holiday (November-December 2019)
Chicago (December 2019-January 2020)
Beijing (January-February 2020)
Paris (February-March 2020)
Cairo (March 2020)
Iceland (March-April 2020)                                                               
Buenos Aires (April-May 2020)
Marrakesh (May 2020)
Amsterdam (May-June 2020)
Zurich (June-July 2020)
Edinburgh (July 2020)
Upcoming Content
See Upcoming Content
Game Version History
See Version History.
Languages
The game is currently available in 3 languages: English, Brazilian Portuguese, and Latin American Spanish.
Popularity
As of March 2013, the app had 26.5 million daily active users and 130 million downloads, as the company projects a total of 250 million downloads in 2013.
Gallery
Community content is available under
CC-BY-SA
unless otherwise noted.