Brandon
Characteristics
Cost
95,000
Edition
Hong Kong
Limited?
Yes
Release Date
20 September 2018
Outfits
Kung Fu Outfit
15
Brandon is a character in Subway Surfers. He is a limited character in the Subway Surfers World Tour: Hong Kong edition. He is the fifty-first limited character in Subway Surfers, and the forty-ninth limited character in the World Tour series.
His Kung Fu Outfit can be purcahsed with 15

.
Appearance
Edit
Brandon is a young adult with black hair. He wears a red sleeveless shirt covered by a gold-colored jacket. He also wears black pants and white-and-red shoes.
In his Kung Fu outfit, his jacket is changed to a purple jacket with a swirl pattern. He is also barefooted and wears sunglasses.
Brandon looks like Bruce Lee, but has the same name as Bruce Lee's son, Brandon Lee.
Brandon is the third chinese surfer. The first 2 are Sun and Lee.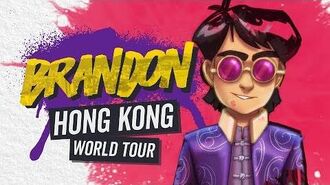 Characters
Permanents
Token Characters





Default Characters








Limited Characters
2012


2013










2014









2015







2016








2017








2018






2019









2020





Antagonists
Community content is available under
CC-BY-SA
unless otherwise noted.